Today, May 13th 2012, one of the Antiquorum's 'Important Modern & Vintage Timepieces' auctions was held in Geneva. This one had my exceptional interest because it was 'Featuring the 40th Anniversary of the Audemars Piguet Royal Oak'.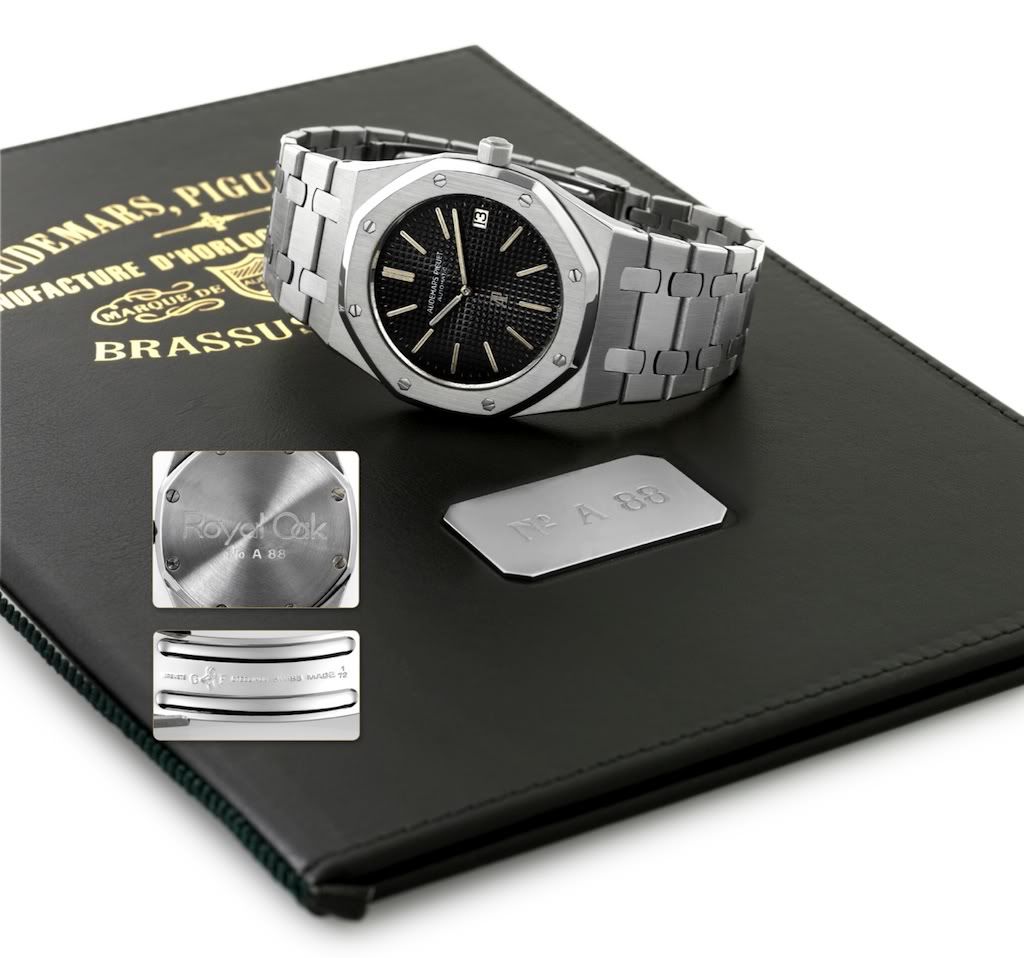 At first I was a little bit disappointed that, at what seemed to be an important '40th anniversary of the Royal Oak' auction, only four real originals (i.e. 5402ST's) were offered. Probably they're that scarce or probably nobody wants to sell them at this point. There was only one 15002ST (with a salmon colored dial) and only one 14802BA which thus was in yellow gold. No 15202's were offered at all.
Well anyhow, the real fun of this 'Important Modern & Vintage Timepieces' auction started at lot number 408 with a 1972 5402ST with – as was said – the earliest serial number ever to be offered at auction. The watch bears the lucky number A88, so this must be a collectors dream. It was hammered (including buyers premium) at CHF 40.000,= (approximately € 33.300,= or US$ 43.000,=); not bad at all, however we've seen higher prices in the nearby past.
Two other 5402ST's – serial numbers A1876 and B1150 dating from 1974 and 1975 – were respectively sold at CHF 36.000,= and only CHF 15.000,= (€ 12.500,= / US$ 16.100,=). The last one probably being in a lesser condition, because it wasn't bearing the Antiquorum's grade Special A, however the regular triple AAA. The last 5402ST on auction, lot number 405, (1977, C1434) wasn't sold at all.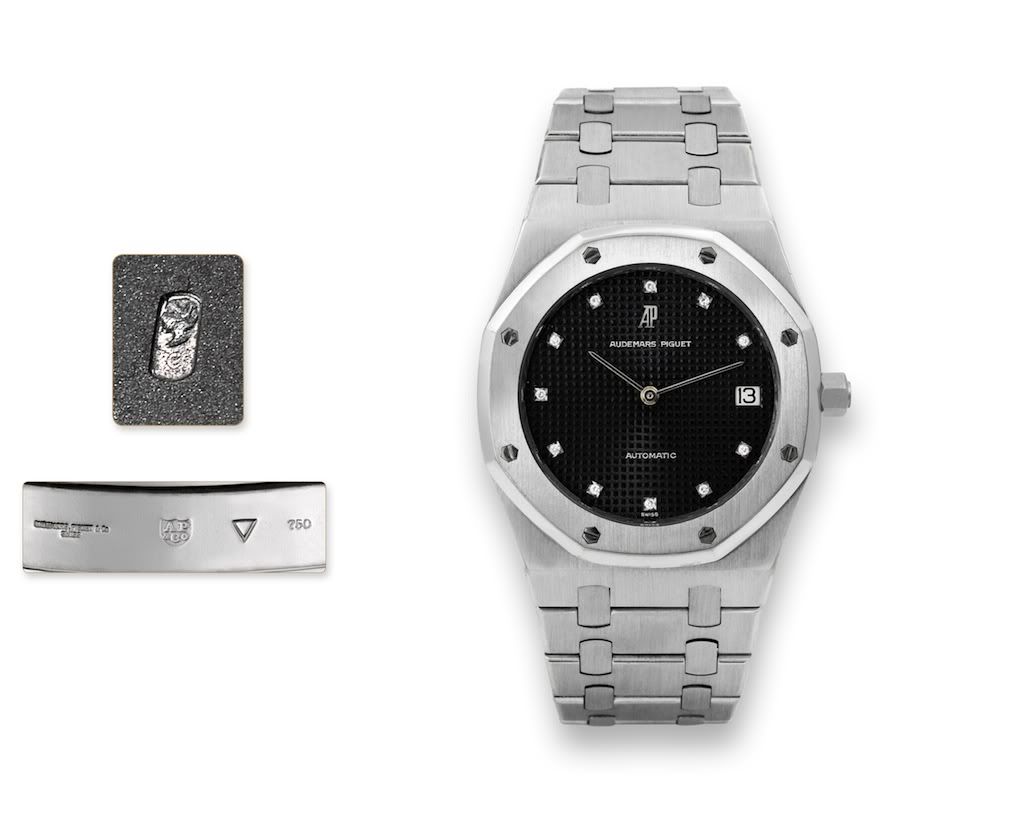 Very interesting to see was that an 18 carat white golden 1980 5402BC (serial number B43477) was sold at only CHF 25.000,= (€ 20.800,= / US$ 26.900,=) – quite a bit less than the two first before mentioned stainless steel versions (ok, it had some ugly diamond hour markers on the dial).
Two 18 carat yellow gold (1977 and 1980) 5402BA's were sold at CHF 40.000,= and CHF 37.5000,=. The first one being former property of Venezuela's president Perez, sold and signed by Bvlgari.
There was quite some other Royal Oak Jumbo stuff on auction as well of course, including beautiful perpetual calendars and sceletonized versions. For the rest it was the nifty City of Sails, End of Days and Alinghy Off-Shore variation kind of things.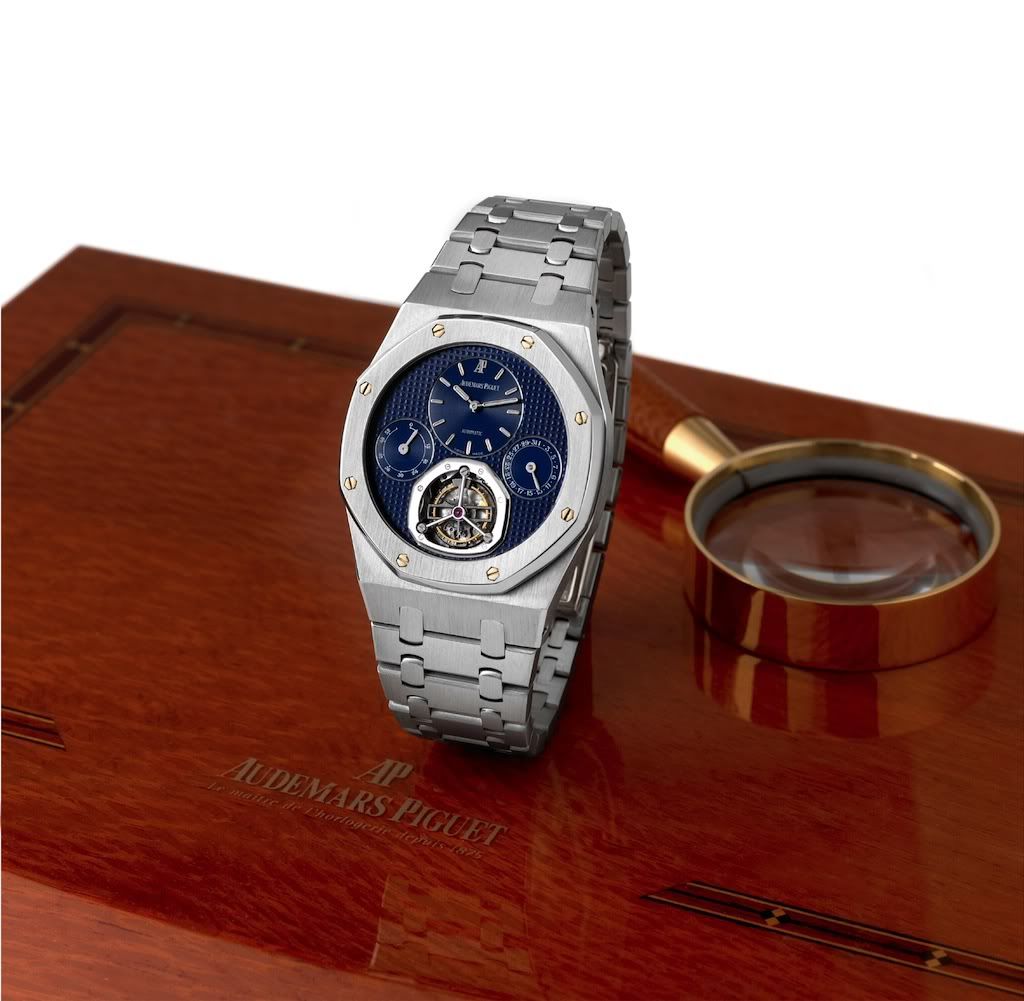 The top-fetching lot was number 421, number 1 of a platinum Royal Oak Tourbillon which was made 'in a very limited edition' in 1997 for the 25th anniversary of the Royal Oak, and brought CHF 116.500,= (€ 97.000,= / US$ 125.000,=).
The last lot of the '40th anniversary of the Royal Oak' items was the first watch (indeed number 01) of the newly introduced 15400ST which was sold at CHF 32.500,= (wow! what where they thinking…?).
Find all lots and results at the Antiquorums online catalogue of this auction (lots 398 to 453), and fill in 'royal oak' at the search field.