Sunday it is, and it's to mention that the fair gets less crowdy. At least the press center is – most watch news will have probably been published by now.
First to end my write up of day three; yesterday just after I published my write up I visited Glycine. They celebrate the 60th anniversary of their iconic Airman model. For this occasion they'll bring a one off, yes that's only one, set of three original Airman watches with Felsa movement. However in solid 18 carat yellow, rose and white gold…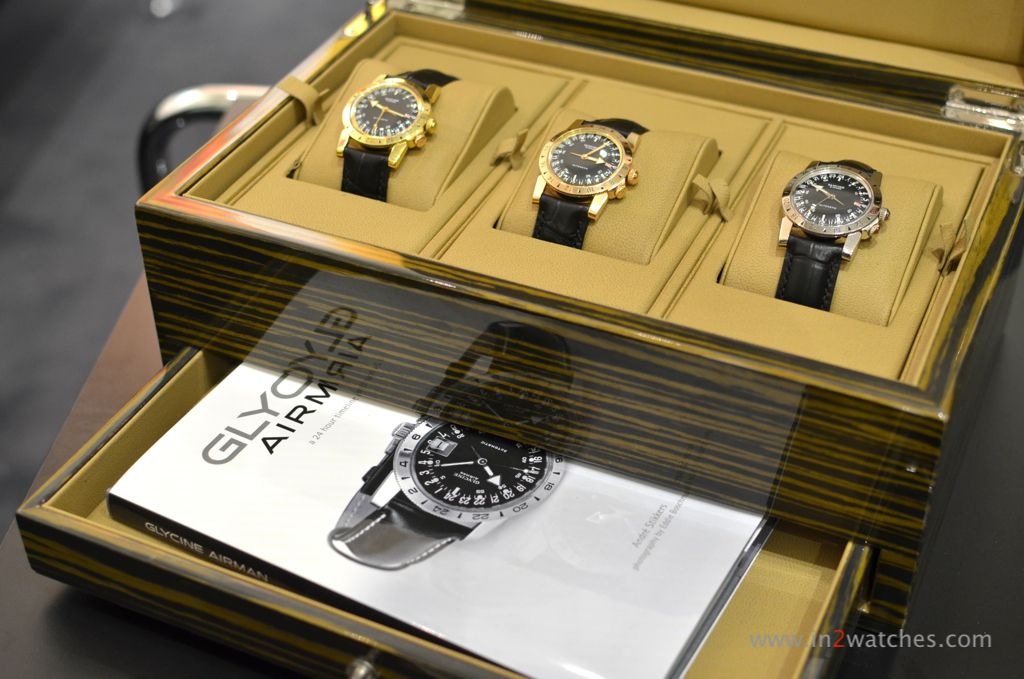 Glycine Airman 60th anniversary set 1/1
The watches are almost identical to the original watch which was presented in 1953, and presented in a beautiful box including the new version of the Airman book by André Stikkers. In the picture below you see Andre signing my personal copy (of the new book that is of course, not the set of watches).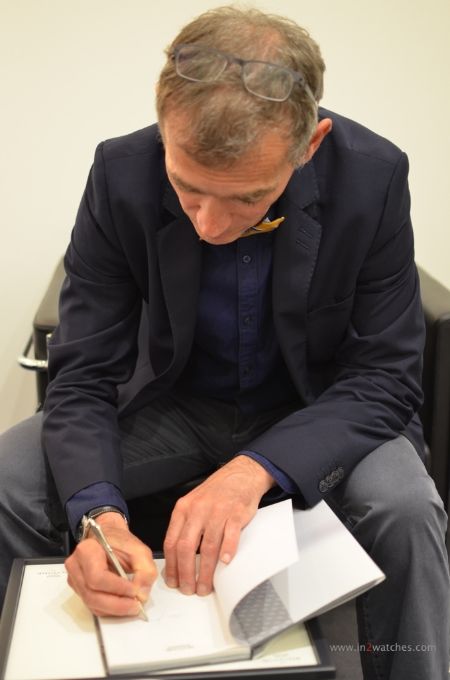 André Stikkers
From Glycine it was off to Bell & Ross, who were very eager this year to have me at their boot; I still don't exactly know why, it was probably just that they had a new PR company working for them.
Although B&R have some interesting products, the presentation was a bit monotonous. I was in and out within half an hour, and could feel that the lady presentiung me the novelties wasn't doing it for the first time. I didn't do much pictures as well, I'll just publish this one of the set (limited to 99 pieces) with six specials: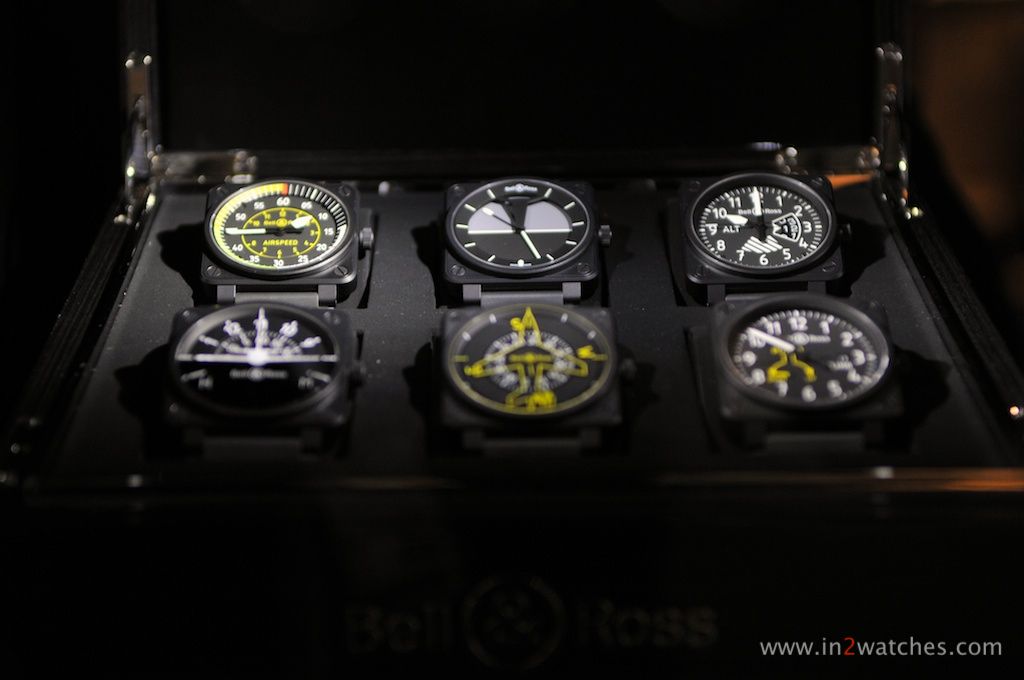 Bell & Ross, specials set – 99 pieces
After my B&R appointment I was invited to attend a Eberhard press cocktail where the of a design competition was presented. This competition was hosted by 5 international watch forum. 'Our' Ernie Romers of WatchUSeek ended up in third place in terms of numbers of entered contenders.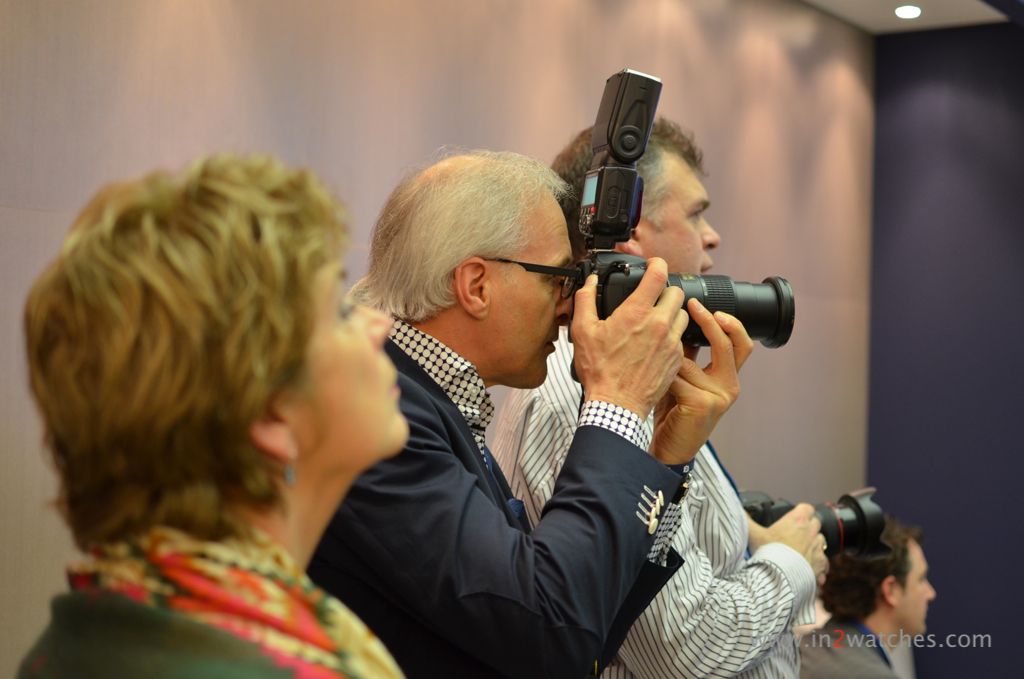 Ernie Romers
And then in the evening, each years absolute highlight of the Baselworld fair, the un-organized, organized by Frank Geelen of Monochrome, world famous and incredible Schnitzel dinner took place again.
(picture at the camera courtesy of Bert Buijsrogge)
A gathering of international bloggers, independent watch makers and other pirates of the watch industry. In the dim atmosphere of restaurant Hahn it went late again. However that's all what I can say, because as Beth Doerr already mentioned, "What happens eating schnitzel stays with the schnitzel….".
So, but now it's day four of the fair, which means the fifth day I'm around. Today I don't have too much on my program anymore, however my first appointment was an interesting one at Omega.
I saw a lot of new models, however was very surprised that there wasn't any Limited Edition Speedmaster Professional. This must be for the first time in many many years. Most new watches were Seamasters and Speedmaster Co-axial, however after some deep questioning I found a Speedmaster Professional, which Omega indicated as 'Racing'.

Omega Speedmaster Professional 'Racing'
This Speedmaster is not limited in numbers and will be part of the general collection, however I guess not that many will be made. Lacking more new Speedmaster Professionals and seeing a glimpse of the last year introduced Z-33, I took the opportunity to try that on.

Omega Speedmaster Z-33
After Omega I did a tour around several halls to get an impression of new booths that have been build this year; some of them were nothing less than stunning and very impressing.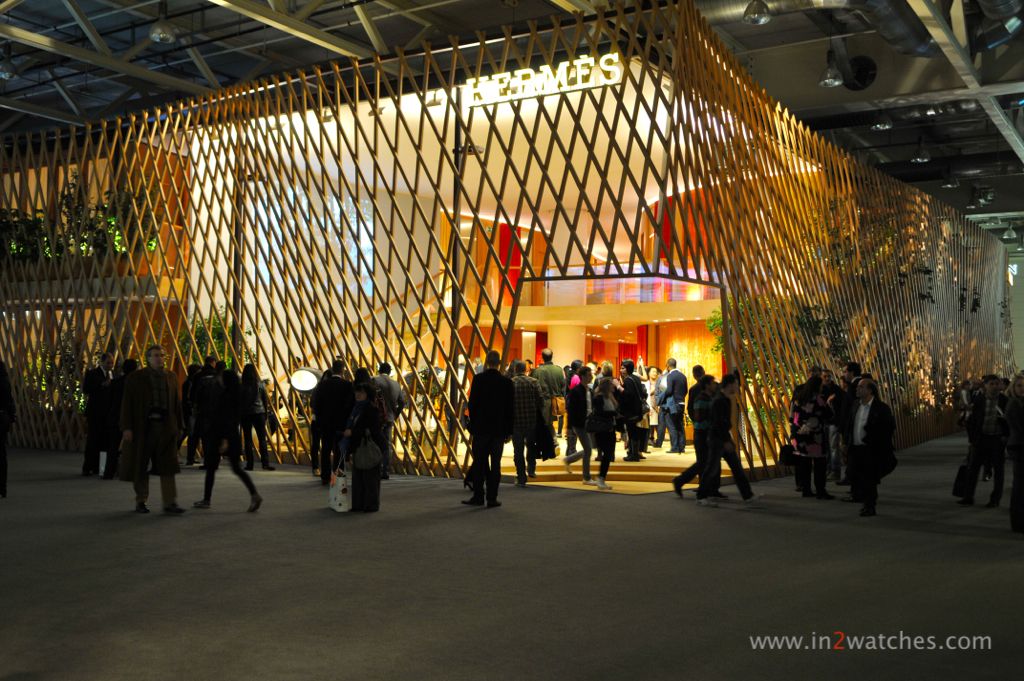 Hermes' new booth
I ended my tour at Bart and Tim Grönefelds booth, were there was a cold beer to end the day. Well, end the working day, tonight it will be off to Restaurant Schlosshoff in Dornach for dinner with friends.
Read all about it in my Baselworld 2013, day five write up.