This is incredible. Do you remember the pre-LED digital indication from the sixties? These were called Nixie tubes and were glass-vacuum tubes with numbers displayed on different layers of elements inside.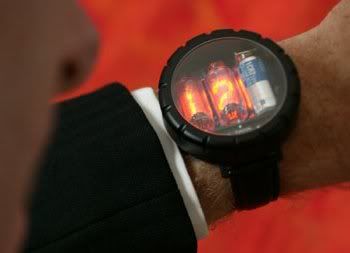 Now a company called 'Cathode Corners' – as far as I can find out, pretty much a one man show by David Forbes, based in Tuscon Arizona – is using the smallest available of these tubes in a wrist watch.
The Cathode Corner Nixie Watch is a two-digit wristwatch, easy to read and a perfect way to show your retro-geek cred. It is water resistant and rugged. The case is machined from aircraft aluminum and hard anodized to handle years of abuse and still look great.
The watch requires no button-pushing to operate. Just hold the watch at your standard viewing angle, and the hours, then the minutes, will appear in 14mm tall, glowing orange digits.
Find more information (like movies) and the possibility to order this extraordinary timepiece (US$ 395.=) at www.cathodecorner.com