On the last day of last month, Tudor and Ducati announced their cooperation on timing.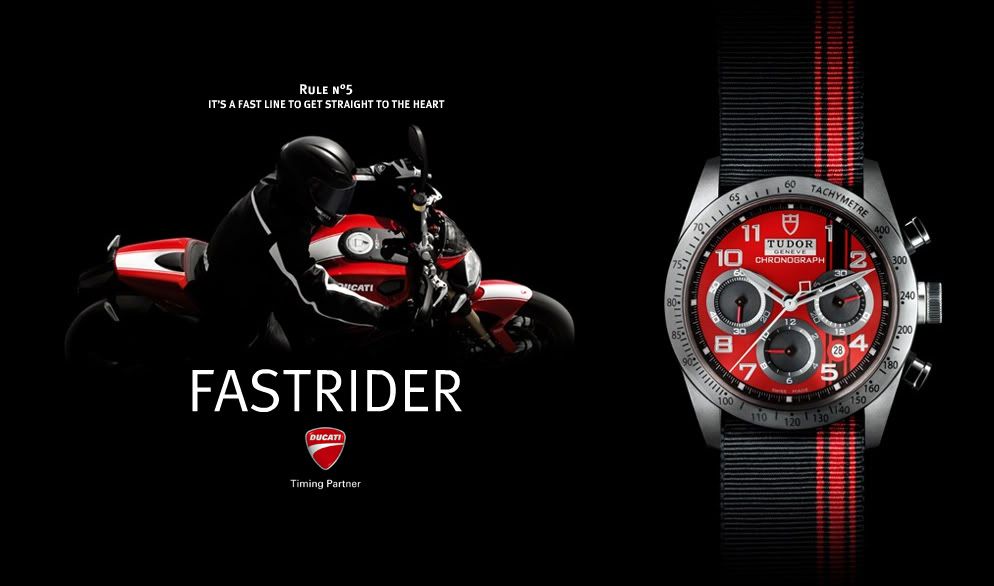 I have a weak spot for both brands, however I can't see exactly what Tudor is going to add to Ducati in terms of timing. Timing in motorsports – well in any of todays sports – is nothing about mechanical watches as far as I know.
So it might be as well another brand 'mariage' in order to share and communicate the same philosophy and imago feelings to potential customers; a so called 'story of parallel identities'. Or probably both companies want to benefit from each others customers, in order to attract them to their mutual products. Who knows.
Anyhow, Tudor says their cooperation with Ducati is a 'significant milestone' for them, one which is of course accompanied by a commemorative watch model. This variation of the Tudor Fastrider chronograph will retain the technical features of the other Fastrider models, however uses Ducati red in the vertical stripes of the strap and in the dial. 'In pleasing contrast to the black of the fabric and totalisers' as Tudor finishes it's press information…
More information on Tudor can be found here www.tudorwatch.com while the Ducati website can be found through www.ducati.com